SW-Smart Anchor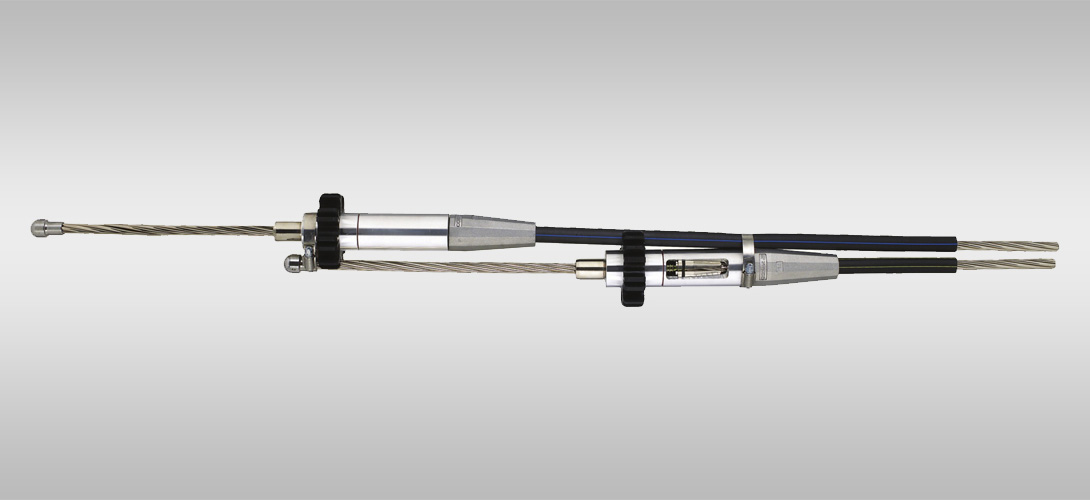 Removable,
tension and load
Distributive type Anchor
(SW-SMART Anchor)
The SW-SMART anchor is a load distributive tension type removable anchor designed to uniformly transfer skin friction to the grout body and soil throughout the entire bond length rather than applying a concentrated force at the distal end of the anchor body. This anchor has been developed for the purpose of securing anchorage force in relatively weak soils of approx. N 10. Removal of the SW-SMART anchor is performed similar to that of the SW-RCD anchor.
SW-SMART Anchor Features

1 The load distributive design allows the anchoring force to be secured in soils with low confining pressure (approx. N 10).
2 Minimize working space required for removal of steel strand. • Strand is easily removed which minimizes removal cost.
3 Materials for bond and free length can be freely selected. (Ex.: Free length - steel strand, Bond length - steel bar)
4 Anchoring force can be secured even when compressive strength of grout body is lower than that of compression type anchor.
5 The target anchoring force can be easily secured in soils with low confining pressure due to the lower eccentric design.
6 When applied to weak ground, workability, convenience and economic efficiency are outstanding compare to those of other techniques.
Design/Specifications
Table 1. SW-SMART Anchor Specification (12.7mm) (KS D 7002)
[KS D 7002]
No. of Steel strand (φ = 12.70mm)
Ultimate Strength
(kN)
Yield Strength
(kN)
Allowable Design
Load (Ta) (kN)
Remarks
3
549
468
275
* Ultimate Strength (Breaking Load) (Tu)
= 183.0KN (1 strand)
* Yieid Strength (Load at 1% Elongation) (Ty)
= 156.0kN (1 strand)

* Allowable Design Load (Ta) = 0.5 Tu
* Allowable Lock-off Load = 1.1 Ta
* Stressing Load = 0.8 Tu

Reference BS-8081:2015
4
732
624
366
5
915
780
458
6
1,098
936
549
7
1,281
1,092
641
Table 2. SW-SMART Anchor Specification (15.24mm) (ASTM A416 270 Grade, Low Relaxation)
[ASTM A416]
No. of Steel strand (φ = 15.24mm)
Ultimate Strength
(kN)
Yield Strenght
(kN)
Allowable Design
Load (Ta) (kN)
Remarks
3
782
704
391
* Ultimate Strength (Breaking Load) (Tu)
= 260.7KN (1 strand)
* Yieid Strength (Load at 1% Elongation) (Ty)
= 234.6kN (1 strand)

* Allowable Design Load (Ta) = 0.5 Tu
* Allowable Lock-off Load = 1.1 Ta
* Stressing Load = 0.8 Tu

Reference BS-8081:2015
4
1,043
938
521
5
1,304
1,173
652
6
1,564
1,408
782
7
1,825
1,642
912
Available strand standard
-15.2mm (AS/NZ 4672) / 15.2mm (KS D 7002) / 12.7mm (KS D 7002)